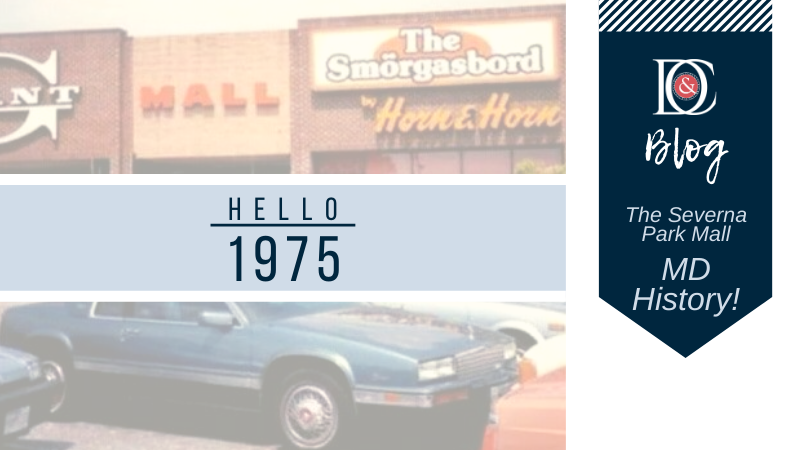 The Severna Park Mall opened in 1975 with Grant City & Giant food being the first two retailers. Grant City was short-lived, with Woolco taking its place after just one year. In 1982, the space was occupied by Caldor. Kara Shaffer, D&C Realtor®, says "It is fun reminiscing with friends about the Severna Park Mall back in the day. Was there a weekend my parents didn't make a Caldor run?".
For sure, most of the local residents remember this mall that sits where Severna Park Marketplace is today along Route 2 (Ritchie Hwy). Other stores that occupied the space back when it was the SP Mall included:
Pixie Pizza

Horn and Horn Smorgasbord

Buffy's Yummys

JJ's Records

Dan's Barbershop

Sidles Jean Scene

G Briggs

a Hallmark store

a hair salon

and the restaurant Kona Tiki
Caldor closed in September of 1989 but re-opened in October 1991, then closed for good in 1999. The mall was mainly empty in the 1990s with Kohls moving into the building shortly afterward.
History involves wistful memories of times that can often now seem better or simpler. "I love that I have lived in Severna Park pretty much my whole life. I love watching new businesses come in and thrive. I remember when The Cottage was just a home good store. Franklin Toys as Beep Beep. There was a TCBY in Park Plaza before Froyo House became as trendy as it is today. I remember going to the Gingerbread Man where Bill Bateman's used to be and playing in the arcade room while we waited for our food. I can't wait to see what the new space looks like! And let's not forget Mama Tali's (not sure on spelling), the Italian place where Starbucks currently resides. BEST BREADSTICKS EVER." –Kara
Change is exciting and can be painful when used for making such a difference in a thing that it becomes something else! May we continue to learn from our past and honor those before us that helped along the way. Fun fact: Kara's dad "built the Field House at Roberts Field at Severna Park High School and to see that go down was pretty hard. But with the old comes new and I know my kids will love the new school. I'm extremely grateful to have my memories in this great town!".
Please share with us any memories, pictures, or stories you have about small businesses that started the communities we love today!


For more tips on home decor, real estate market updates, & local biz; keep reading the D&C Blog and reach out to dianeandcrew@gmail.com anytime with all of your questions! We love consulting with you prior to buying/ listing your home to help simplify the process, it's one of our specialities!
Like inspiration? Visit our pins for ways to decorate your kitchen, our favorite tailgate dishes, furniture placement + room layouts, the occasional fur- baby and of course, our exclusive listings board!