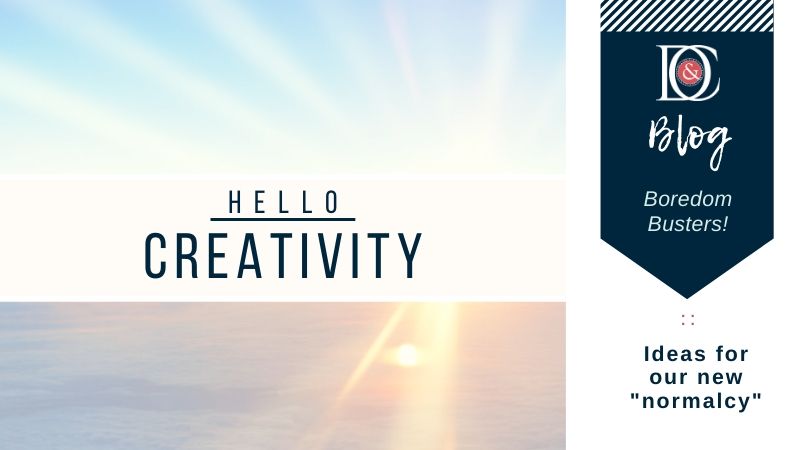 Although times are scary and the future is uncertain, we are trying to make the best of things in our household. The abundance and hustle of yesterday has abruptly been replaced by a more cautious mentality and we are suddenly taking more care with how and where we travel each day and where we are spending our time and money. At the same time, we want to be certain we don't miss out on this rare and unique opportunity to slow down and take better care of ourselves and those around us.
Here are some things that our Crew Teammate, Donna Ball is doing with her family to maintain a sense of normalcy while embracing a slower, simpler pace and lifestyle:
DEVELOP A ROUTINE for yourself and your family and stick to it. Wake up at the same time every day (shower and get dressed), create a task list (with working/playing hours noted), take a lunch break (and get outside), take coffee and stretch breaks, plan check-ins (stay connected), eat meals at the same time every day, stop work at the end of the work day (give yourself days off), use your normal commuting time for self-care (reading, meditating, baths,…), make space (create dedicated spaces within your home for work, school, projects, etc.)
CLEAN frequently touched surfaces (door knobs, cabinet knobs, hand rails, light switches, remotes, phones, keyboards, kitchen appliance handles, toilet flushers) including in the car (door handles, window controls, signals, gear shift, radio controls/dials, belt buckles). Leave shoes and outerwear in a remote location of the home (mudroom, garage). Keep mail in a consistent location and wipe it down often. Clean out your email box while you're at it!
SPREAD CHEER (hang holiday lights, write letters to family and friends, organize neighborhood-wide social distancing activities for young ones like driveway chalk art tours or scavenger hunts, support local businesses by purchasing gift cards). If you are talented enough to have a special skill like photography, share your gift with others by taking family portraits of neighbors on their door steps. If you play an instrument, have your own little parade in the streets for all to enjoy.
EAT HEALTHY & HAVE FUN WITH FOOD Food brings people together even when they are apart. Try new recipes (Pinterest and The Kitchn are good recipe sources). Put together the most attractive charcuterie board you can using only food items you already have. Alternate meal preparation and clean up between family members and vote on the best meal of the week. Start a remote food challenge with friends focusing on a different cuisine or ingredient each time and get together on Zoom to share the results.
LEARN SOMETHING NEW Try calligraphy (especially good for young ones that no longer learn cursive in school). Pick up a new hobby/skill (knitting, crocheting, painting/drawing). Listen to Podcasts (99% Invisible delves into how design impacts our lives, Stuff You Should Know explains how street gangs, mosquitos, and the 5-second rule work, This American Life for relatable storytelling, there are so many good ones)! Learn a new language (Duolingo, Memrise, and Babbel are good apps to try). Attempt to duplicate an idea found on Pinterest. Teach your children useful life skills like changing a flat tire, building a fire, doing their own laundry…).
EXERCISE Exercising, meditation and laughter help with anxiety. Try a new at-home workout routine (better yet, do a dance routine with your kids and post to Tik Tok – you will likely get exercise AND some good laughs). Walk the dogs. Go for a bike ride. Garden.
HELP OTHERS Check-in on elderly neighbors. Pick-up groceries and other essentials for people you know with underlying health risks. Support healthcare workers in your community by making meals for their families. Call/FaceTime family and friends to let them know you love them and are thinking about them. Look for unique opportunities within your community to volunteer.
MAKE LISTS Make a list of things for which you are grateful. Get organized and get things done. Write a list of 5 household projects you've been procrastinating on and do them! You'll be glad you did when things get back to normal! Write a list of ways this experience has changed your outlook and things you have learned that you would like to carry over into your future.
RELAX Sleep – get lots of it! Cuddle with your pets. Listen to music.
AMUSE YOURSELF Try on all of your clothes and determine if they spark joy (Thank you Marie Kondo!). Order and put together some IKEA furniture (time yourself to increase the challenge). Watch the films that won Oscars and Independent Spirit Awards. Watch a comedy. Laughter is sometimes the best medicine!
We hope that you are inspired by these ideas and thank you to our Crew Teammate, Donna Ball for writing this post and providing many ways to be creative during this crazy time!
Stay with us for more tips on home decor, real estate market updates, & local biz. Keep reading the D&C Blog and reach out to dianeandcrew@gmail.com with all of your questions! We love consulting with you prior to buying/ listing your home to help simplify the process, it's one of our joys!